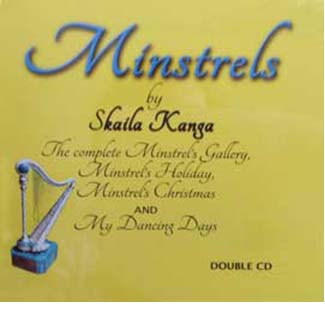 Minstrels CD Introduction
The 'Minstrels' series of harp books was first launched in 2003. Minstrel's Gallery has since become one of the popular books for beginners of pedal and lever harp throughout the world, notably in the UK, Europe, USA, Russia and Hong Kong. Minstrel's Holiday followed in 2008 and Minstrel's Christmas in 2012.
It has been great fun to record these three books for Minstrels of all ages. I am also happy to include a performance of 'My Dancing Days' for harp ensemble which was commissioned by the Anglo-Chinese Junior School Harp Ensemble in Singapore.
My grateful thanks to my husband Harold Fisher, my daughter Lisa Andrews and our engineer Adam Vanryne for all their hard work, talent and support.
This cd was recorded at Harewood Studios, Chorleywood, Hertfordshire in February 2013.
Happy Harping!
Skaila Kanga Professor Emerita of Harp, Royal Academy of Music, London, UK.